6 Best Lago di Como Cruises in Italy
There is no better way to get to know Lake Como than from a boat crossing its waters. Therefore, in this post I'll tell you about the best boat trips and tours you can do in this beautiful Italian spot.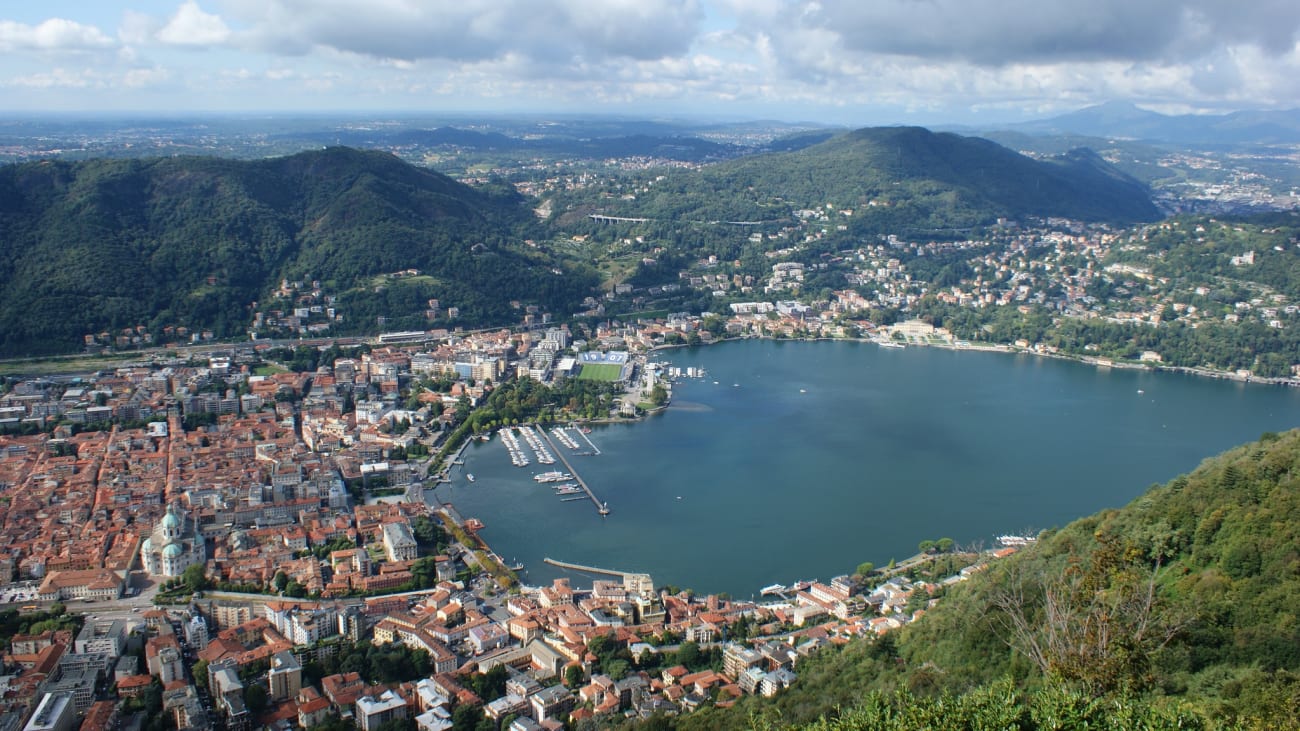 No visit to Lake Como would be complete without a boat ride on its waters. And the best perspective of its beautiful villages and the surrounding mountains of the Alps is obtained by sailing on the lake itself. Aware of this, there are many tours and boat trips organized to get around and enjoy all that Lago Di Como has to offer.
If you have already seen all the attractions of Milan, a visit to the lake is one of the best excursions we can do if we are traveling in the Italian city. And to make this excursion as fruitful as possible you should complete it with a boat trip. Here I leave you all the information about what are the options of the different boat trips on Lago di Como.
1. Excursion to Lake Como, Bellagio and Varenna with boat trip
The best option
This guided excursion from Milan will take you to the most beautiful villages around Lago di Como.
This complete tour also includes a one-hour boat ride on the lake itself from where you will have the most amazing views of your trip to Milan.
The best way to discover Lago di Como and the beautiful landscapes that surround it is by taking an organized excursion to Lago di Como, Bellagio and Varenna. The tour, lasting about 11 hours, includes transportation to all three locations from the city of Milan, which will make you forget about the logistics of getting there.
In addition, the boat ride included in the tour will allow you to tour the waters of one of the largest lakes in Italy and enjoy from there one of the most spectacular views of northern Italy, with the snowy backdrop of the Alps.
Recommended if... You want to comfortably enjoy a boat trip on Lago di Como without having to look for a way to get there and get to know the surrounding villages with an expert guide.
2. Free sailing for 1 day from Como
Another option we have to take a ride on the waters of Lake Como is to do it with a voucher valid for a whole day. The starting point from where the boats depart is the city that gives its name to the lake, Como.
A town located on the southern shore of the lake and the closest to Milan, so we can say that it is the "access" to the lake. From its port depart most of the boats and tours that interest us.
At the ticket offices located at the dock of Como you can buy vouchers that will allow us to move freely around the lake from the town of Varenna located more or less in the central part of Lake Como stopping in many of the villages that lie between these two locations.
This type of voucher allows us to travel around the lake freely choosing ourselves in which stops to get off and stop to admire the villages.
In this case it is important to know all the schedules that you can check in advance on the official website of Lake Como transport.
Details of interest
Price: 25 euros per day. 72 euros per week.
Duration: It depends on the destination you choose. From Como to Varenna about 1 hour.
Means of transport: Boat.
Advantages of this option: It gives us total freedom to move around the lake and get off at the stops we want.
Disadvantages of this option: We must be aware of departure times and we do not have a local guide.
3. Private boat tours
Lake Como is synonymous with luxury. Not in vain, it is home to luxurious villas, some of the best hotels in the world and the place chosen by many celebrities for their vacation periods. And that's why there are also luxury options for a boat ride on its waters.
There is the possibility of hiring a small private yacht with a skipper on board to tour the lake with all possible luxuries.
There is a wide variety of prices depending on the boat, extras and duration, but generally the minimum is about 200 euros per hour. The minimum includes the skipper, drinks and meals on board as well as a tour of the lake with the possibility of stopping for a swim.
It is an experience more suitable for very special occasions but it is the best way to fully immerse yourself in the luxury that surrounds Lago Di Como.
Details of interest
Price: From approximately 200 euros.
Duration: Hired by the hour.
Means of transport: Small private yacht.
Advantages of this option: It is a truly luxurious experience.
Disadvantages of this option: Price.
4. Recreational sailing trips on a sailboat
Not all boat experiences have to be focused on tourism or luxury. There are also experiences for leisure and fun on the water. For this on Lago Di Como you can hire sailing boats ideal for this purpose.
This type of boat has two skippers in charge of navigating the lake and take you to the best areas to enjoy a swim and a day of relaxation and fun outside the more touristy tours.
The price usually starts at 125 euros per person, approximately, for half a day. But there are also possibilities to hire the boat for a whole day. In addition to the skippers, these trips include drinks and lunches on board, although limited.
If you decide for this option, do not forget your swimsuit, sunglasses and above all the desire to enjoy.
Interesting details
Price: From 125 euros approximately.
Duration: There are half day and full day options.
Means of transport: Sailing boat.
Advantages of this option: It is the best from a recreational point of view.
Disadvantages of this option: It is somewhat expensive and not recommended if what you want is to see interesting towns and places of Lago Di Como.
5. 1 hour boat tours
For those who are looking for the most economical option and have less time available, there are some tours designed for this profile. From the city of Como there is a one-hour tour that runs along a part of the lake.
It stops in less crowded villages such as Tavernola, Cernobbio, Moltrasio, Torno and Urio. Although less known than others such as Bellagio or Varenna, these villages are equally beautiful and with the advantage of being less crowded.
With this tour you have the possibility of getting off at any of these stops, although if you stay on board you will cover the entire distance covered by these towns in just one hour. Enough time to see much of Lake Como.
The great advantage of these tours is that the prices are much cheaper than the other options. They start from about 9 euros per person.
Details of interest
Price: From 9 euros.
Duration: 1 hour.
Means of transport: Boat.
Advantages of this option: The cheapest option and the fastest if we have little time.
Disadvantages of this option: There are no stops in the most important towns.
6. Tour from Milan to Bellagio and Lecco with cruise included
One of the best options to go to Lago Di Como and visit the lake is to book one of the excursions from Milan.
In this case if you want to sail around the lake I recommend a tour that starts from Milan and includes a cruise through Bellagio and Lecco, two of the most important towns in the region.
This type of tour includes the transfer from Milan by train to the city of Como from where you take a cruise that runs along much of the lake with stops in Bellagio first and then Lecco. The great advantage of these tours, apart from having it organized, is that they include a professional guide and the tour is one of the most extensive that can be done on Lago Di Como.
Details of interest
Price: From 80 euros approx.
Duration: The complete tour is about 10 hours.
Means of transport: Train from Milan and boat.
Advantages of this option: You have everything organized and one of the most extensive tours you can do.
Disadvantages of this option: Price somewhat higher than a normal tour.
How to book a boat trip on Lago Di Como
To book a boat trip on Lake Como there are two options. Either you book in advance via online or you get your tickets at the ticket booths at the docks from where you take the boats.
For guided tours and private boats the best option, and the only option in most cases, is to do it online. To take a normal boat with stops in the different villages you can perfectly well get your ticket at the ticket office. But especially in summer, when it is high season and the demand is very high, it is advisable to book the tour with cruise on Lake Di Como in advance online to avoid queues and waiting.
Tips for a boat tour on Lake Como
To make the most of a boat tour on Lake Como it is advisable to keep a number of points in mind:
If you visit the lake in summer, keep in mind that it is a very touristy area and the influx of people is very high. Keep this in mind when getting your tickets or booking a hotel if you are staying in the area.
Temperatures in summer are very high so sunscreen, sunglasses and swimsuit is almost mandatory.
Since there are dozens of villages worth visiting in the same lake it is advisable to decide what to visit beforehand and make a tour to find the tour that best suits your tastes.
Which are the villages not to be missed in Lago Di Como?
The villages on the shores of Lake Como are among the most beautiful in Italy. The list is very extensive so you need many days to see them all. As we do not always have that time, I'm going to make things easier for you by leaving you this link with a list of the 10 most beautiful of the entire lake.
As a summary, if you have to prioritize some of them, I recommend you to visit mainly Bellagio and Varenna. They are two of the most beautiful and also the most accessible. Out of the best known, Nesso is a real hidden gem and one of the most picturesque. Whichever one you choose, you will not be disappointed.