Fotografiska New York: Opening Times, Price and Things to Do
Can you imagine having a drink in a church converted into a museum while enjoying the best photos of the moment? The Fotografiska gallery, inaugurated in 2019, surprises all its visitors. Do you dare?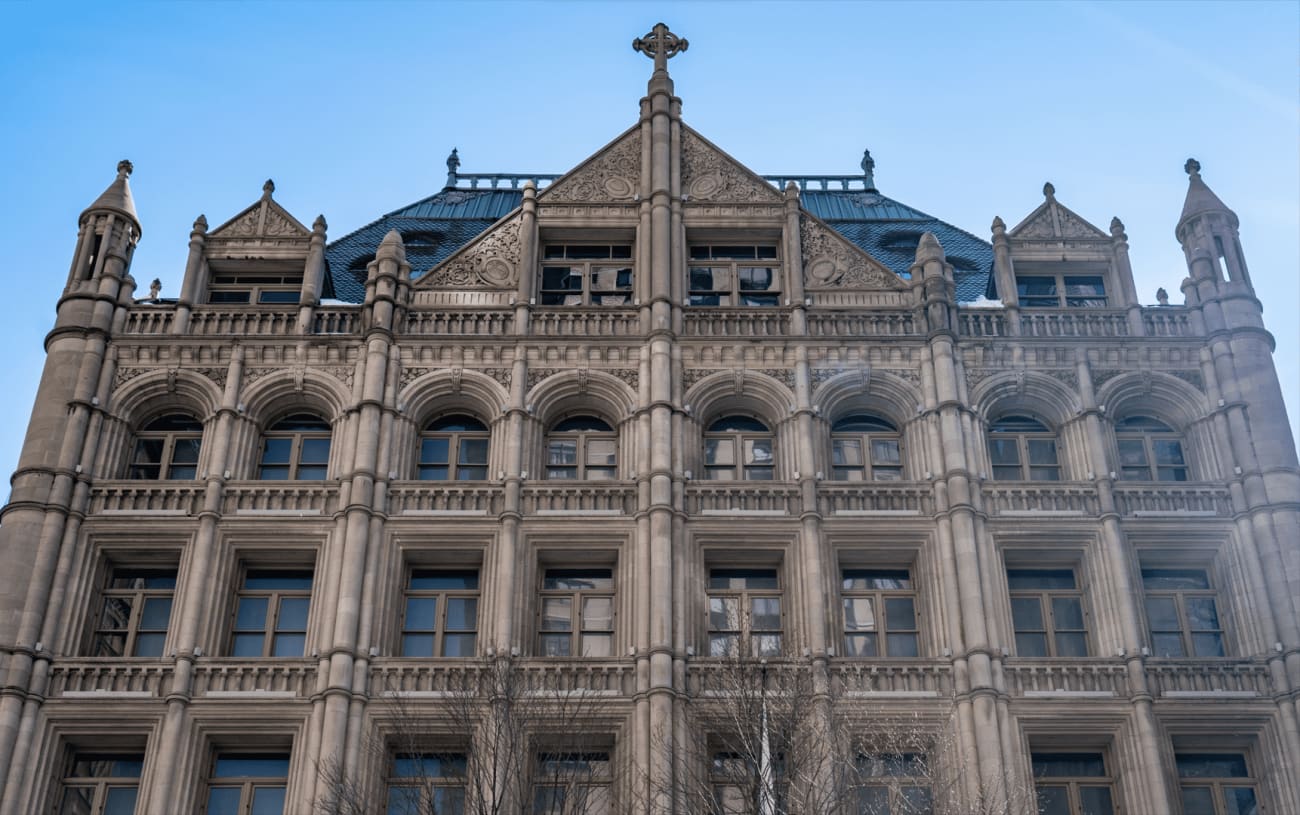 "Have fun, stay late, dig deep and spill your drink." Although it could be the slogan of an alcohol brand, it is the motto of the new Fotografiska Museum in New York, which has revolutionized the cultural world with a mix of photography, art, music and nightlife.
Yes, a lot of nightlife! Having a drink in this church-turned-gallery and dining in its secret restaurant are some of the attractions of this spectacular building.
The good news and the bad news is that the exhibitions are continuously renewed, don't miss it!
The best option
Get your tickets in advance to the Fotografiska Museum in New York City.
The best of modern photography with these tickets to avoid the lines at the box office.
If you are already convinced to visit the new trendy place in New York, I suggest you to buy your ticket in advance, on the Hellotickets website. You will see the prices available, depending on whether you go in a group, with children or if you prefer the premium option with which you can include a drink with your ticket.
With this option you will pay for your preferential access to the Fotografiska Museum, where you can contemplate hundreds of photographs with a glass of wine. Plus, you'll be spared the hellish queues that form every day at the ticket office.
Why it's worth a visit: Opened in December 2019, it puts a twist on traditional museums and offers talks, fashion shows, DJ nights, poetry evenings, wine tastings and.... much more. The highlight of the moment: the building houses the oldest works of pop artist Andy Warhol, icon of the famous American dream, which have never seen the light of day.
Recommended if... you don't have much time to visit New York and you are a demanding traveler who doesn't like to waste a minute of his time. Like me!
How much does it cost to enter the Fotografiska Museum?
The most recommended is to buy the priority ticket which costs 22 € and it is even cheaper than buying it directly at the ticket office. This way, your reservation will be confirmed immediately and you will receive an email so you can access it and enjoy the most complete experience that a museum can offer.
In it, you will test almost all your senses: taste with its modern cocktails; smell with the cappuccino of its wonderful cafeteria; hearing, with the evenings of music and poetry, and sight with some of the best photographs in the world. Can you ask for anything more?
Did you know that...?

The Fotografiska Museum in Manhattan is located in a former evangelical church from the late 19th century, which was closed to the public for four decades. That's nothing!
How to get tickets to the Fotografiska Museum at the box office
If you are one of those who prefer to buy tickets at the box office, you can also do so, although it will cost you more expensive (22,50 €) and you will lose the great benefits of buying the ticket in advance, such as discount, preferential access and free cancellation. It is clear that, in addition, you will waste a lot of time waiting in line. I only recommend this option if you are one of the groups with reduced prices, such as those over 62 years old and students.
Be careful! Especially if you intend to attend the museum in the late afternoon and enjoy its great atmosphere, I recommend that you buy the ticket in advance, since it is the busiest time for visitors and you may find it very difficult to get in. At that time everyone wants to go in and have dinner!
Box office prices
Adults - 22,50 €
Senior (over 62 years) - 13,85 €
Student (with ID card) - 13,85 €
Military and veterans - 13,85 €
Children under six years - Free
Nuria's Traveller Tip

During the winter it is likely to snow in New York. So if you are traveling at this time, don't forget to bring a good coat, hat, scarf and lined gloves, you will appreciate it. But, don't worry, because the snowfalls will be anecdotal and will leave you with stunning photographs.
Are tickets to the Fotografiska Museum included in any of the city's tourist passes?
Yes, if you want to explore all the attractions of the great metropolis but without leaving your pocket in the attempt, the New York Pass tourist card is a very interesting option and that you can customize according to the duration of your trip and the number of activities you want to do, including a visit to the Fotografiska Museum.
Specifically, this tourist pass gives you access to more than 100 attractions and activities: from the most emblematic places, such as the Empire State Building and the 9/11 Memorial, to hidden treasures and alternative plans for all tastes.
How to get to the Fotografiska Museum
Public transportation is a great way to get to the gallery - and with less pollution! The Fotografiska is located at 281 Park Ave South in New York City. The six-story museum is housed in a historic neo-Renaissance style building from 1894. Being a New York landmark, you'll find it in no time. You can't miss it!
In my opinion, the fastest way to get around the Big Apple is to use the subway, which costs around 2.60 €. Although at first, I admit, it can be a little desperate. The New York subway is literally a city under the city. So that you do not panic, I leave here the basic tips to use it without any mishap.
Recommended methods of transportation
Subway: the nearest subway station is the 23rd Street Station where the 6 and R / W lines stop.
Bus: several city bus lines stop nearby, such as the M1, M2 and M3.
Bicycle: the Citibike parking system (dedicated to New York's public bicycles) is available on the northeast corner, between Park Ave S and 20th Street.
Opening hours of the Fotografiska Museum in New York City
It is one of the few museums in New York that is open 7 days a week. Its hours are from Monday to Sunday, from 9:00 am to 9:00 pm. It is important to note that the last entrance to the museum is one hour before closing time.
However, if I may make a suggestion, I advise you to check the opening hours on the website when you plan to visit the exhibition because they tend to change from winter to summer. In addition, events, such as comedy nights or concerts with saxophonists, are usually after 9 pm.
Are there guided tours for the Fotografiska Museum?
Yes, if you would like to enjoy a more elevated cultural experience, the museum offers two kinds of guided tours: a group tour for groups of 10 people or more, or a personalized private tour with a one-hour tour. Let's take a look at the two options available:
Option 1: Group tour (for 10 or more visitors)
Adult: 19 ¤ (regular ticket costs 22,50 ¤) Senior (over 62 years old): 11,25 ¤ (regular ticket costs 13,85 ¤) Student: 11,25 ¤ (regular ticket costs 13,85 ¤)
Option 2: 1-hour private guided tour
You can create a personalized one-hour tour with one of Fotografiska's experts for 130 € (maximum up to 20 people per guide).
Is it worth the extra money for a guided tour?
The million-dollar question: Is it worth it? Personally, I think that the first option (the group guided tour) is a fantastic alternative for families, university trips, companies and large groups because, in addition to saving a little on your ticket, you will enjoy a more exclusive immersion with detailed explanations to make your time go twice as far. Important: with this ticket you will also get a discount on drinks, although you must buy your drinks in advance!
Temporary and unique collections of the Fotografiska Museum
The particularity of this gallery is that it has no permanent exhibition. Here, everything is ephemeral! Instead, the museum hosts temporary exhibitions that allow it to show a large number of works. The aim is to always have a wide selection of photographs on display - from fashion and commercial pictures to artistic and documentary photography - in order to attract all kinds of audiences for repeat visits to the gallery.
One of the most striking exhibits housed in the museum is "Andy Warhol: Photo Factory," which offers an intimate visual diary of the artist's life and work with more than 120 images, including his earliest work and dozens of never-before-seen photographs.
The exhibition pays homage to Warhol's famous studio in New York City. Specifically, it showcases a collection of his iconic Polaroid portraits of celebrities and friends such as Jean-Michel Basquiat, Dolly Parton, Grace Jones and Keith Haring. You can also travel back in time and see photobooth strips from the 1960s and four short black-and-white films.
Nuria's Traveller Tip

After your visit, I suggest you go to the impressive Flatiron building, located in the same neighborhood as the museum and which was, in 1902, the city's first skyscraper.
How much time you need to visit the Fotografiska Museum in New York City
That is a very personal answer that will depend on your interest in photography, whether you also want to attend the shows it organizes and your time in the city. In my opinion, the show can be toured in an hour if you want to take a quick tour or in an hour and a half if you tour it more thoroughly.
Keep in mind that, as I mentioned, the museum offers extensive programming ranging from live music and presentations to intimate discussions and dinners, which will lengthen your stay in this charming building. The goal is to create community around the museum and for people to gather, discuss, share and celebrate photography. So, my advice, don't go in a hurry because you will miss the best.
This is the Fotografiska Museum store in New York City
In the store you can find for sale hundreds of posters and posters (from 22 €) with the photographs of the previous exhibitions. There are classic, black and white, pop art themed and vindicative images, among others, ideal for decorating your home! Among them, a self-portrait of Andy Warhol or snapshots of Kurt Cobain, David Bowie or Charlize Theron.
Which one should I choose? It depends on your tastes, but I will tell you that the best-selling posters are those of English photographer Miles Aldridge, which always feature transgressive women. No wonder his success. Aldridge grew up surrounded by great figures such as John Lennon, The Rolling Stones and Elton John, for whom his father, illustrator Alan Aldridge, designed album covers. He's a true pedigree.
Nuria's Traveller Tip

Before visiting the museum, take a look at its program. You can enjoy performances with comedians, evenings with saxophonists, photography workshops, guided meditations and even family concerts - a very complete experience!
Where to eat and drink at the Fotografiska Museum in New York City
The Fotografiska Museum in New York turns its bar-cafeteria into a place for artistic discussion and gathering to meet before and after experiencing the exhibitions. These are all the options you will find
Fotografiska New York Café
By day, you can enjoy the delights of the café, and in the evening, the museum's advice (and mine) is to order yourself a delicious glass of wine (which costs around 12 €) or a cocktail and head to the upper floors to explore the artworks. Like the idea? Then get ready because you still have the final surprise: its curious and prohibitively expensive restaurant that will set your teeth on edge because... it's for members only! It's for members only!
Café Fotografiska New York opening hours: It is open Monday to Sunday from 10 am to 8 pm. The daily menu is served from 10 a.m. to 5 p.m. and the evening menu from 5 p.m. to 8 p.m..
The secret restaurant Chapel Bar (members only)
The clandestine Chapel Bar restaurant is hidden inside the Fotografiska Museum, in an old 19th century chapel that has been reinvented and now houses an exclusive and mysterious lounge for members that includes cocktails, events and live performances to share culture and confessions in a very intimate atmosphere and with a very dim lighting. It looks like an enchanted castle - what do you have to do to get in? Like everything in this life, pay and become a member of the museum.
Prices to become a member of the Fotografiska Museum:
Collector level: for art, ideas and community enthusiasts. The price is 173 € per year
Apprentice level: students pay a fee of 77 € per year
Family level: aimed at families with children (the program allows you to include two adults and two children for a total of 388 € per year)
Patron level: this is the highest subscription and costs 1.1,731 euros per year
In conclusion, this is one of the best museums in New York and one of my favorites in the city because it has a very young spirit that mixes all the arts, banishes the concept of "boring museum" and shows that culture is not incompatible with leisure and nightlife.
Just tell that to the master Joaquín Sabina. So enjoy the "19 days and 500 nights" of the Fotografiska Museum and the Big Apple. Without a doubt, you will be amazed!