Best Tours and Daytrips from Los Angeles
If you would like to complete your trip to Los Angeles with an excursion to discover its surroundings, here are my favorites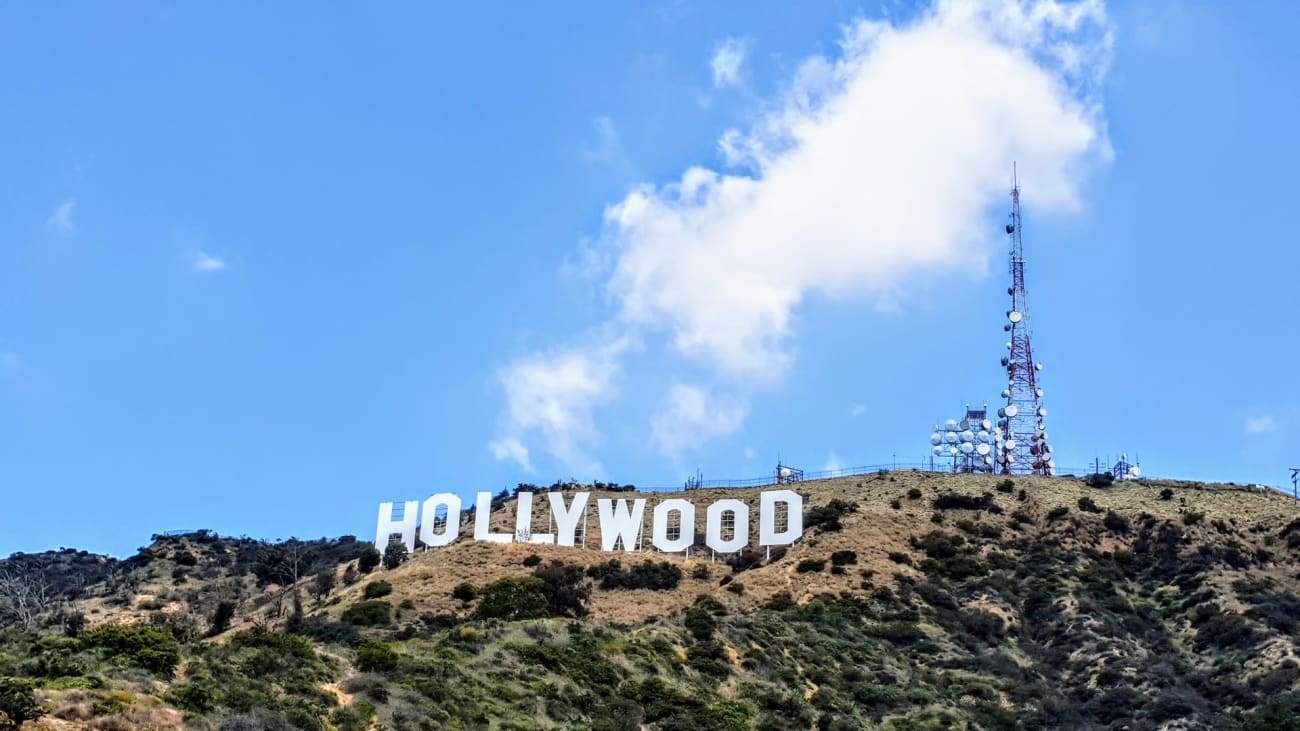 Los Angeles is one of those cities you think you've always known, even without ever having set foot there before, having been the setting for so many movies and series. Read on to find out how to discover the city and its surroundings.
1. Hollywood Tour
If this is your first taste of the dream factory and you're not sure where to go or what to do because it's such a huge city, taking the tour of Hollywood is the best way to make the most of your trip and see the highlights of Los Angeles in a group of 23 people at most.
Many of these sites are separated from each other by long distances, so if you don't have a car, want to avoid traffic, or skip public transportation, my advice is to get on board this bus for a complete tour of the Hollywood area in just 2 hours in the company of a guide, who will reveal all the secrets and anecdotes you've always wondered about the city of stars.
The short duration of this Hollywood Tour will leave you part of the day free for other activities in Los Angeles that you can enjoy at your own pace.
Itinerary
This tour will take you by bus to the must-see Los Angeles landmarks, making several stops along the way to visit the famous Hollywood Boulevard Walk of Fame with over 2,000 stars and pay tribute to your favorite artists. This tour also includes landmarks such as the Chinese Theater and the Hollywood & Highland complex, known as the House of the Oscars.
You will then arrive at the Hollywood Sign, the gigantic nine-letter white sign atop Mount Lee Hill, which has become one of the emblems of Los Angeles since it was installed in 1923 for an advertising campaign. During the tour, you will learn about its fascinating history from a guide and why it became a symbol of popular culture.
The next stop on the Hollywood Tour is Mulholland Drive, the home of the celebrities where you will be able to contemplate their exclusive mansions and the fabulous views offered by the viewpoints scattered along the route along this road built in 1924.
To finish this tour, nothing better than going to the most exclusive shopping street in Los Angeles: Rodeo Drive. It is known worldwide for being one of the most expensive and luxurious areas in the United States. Although its prices are not suitable for all budgets, it is worth visiting this glamorous corner of the city.
Recommendation
If you visit Los Angeles with your family you will be interested in this tour because it allows you to visit several places of interest aboard a bus in which child seats are available and is accessible for strollers, so that children can rest between trips.
Duration
The approximate duration of the tour is 2 hours.
2. Half-day tour of Hollywood and Beverly Hills by limousine
If you'd like to experience the true Hollywood lifestyle, the half-day tour of Hollywood and Beverly Hills is the tour for you. Feel like a celebrity riding aboard a limousine as you visit the city's most iconic landmarks such as West Hollywood, Beverly Hills, the Sunset Strip, and more.
A guide will accompany you aboard the limousine to introduce you to the culture of Hollywood stars and its main attractions during a 2 hour and 30 minute itinerary. In fact, during the visit to the Hollywood and Beverly Hills areas you will be able to stop for a drink, shopping or to see a specific site of interest within the tour.
Itinerary
This limousine tour will allow you to visit iconic places in Los Angeles without the crowds, such as those related to the entertainment industry, for example, the Walk of Fame on Hollywood Boulevard, and enjoy the movie buff atmosphere. Also, the Chinese Theater where the most important movies are premiered, the Dolby Theater where the Oscar ceremony takes place, and the Capitol Records Tower, an icon of modern architecture.
Other stops on the tour include Rodeo Drive, Melrose Place and Sunset Boulevard, three areas full of stores, restaurants, nightclubs, live music events, and shopping malls where you can buy souvenirs of your stay in Los Angeles and savor the best of its cuisine.
During the limousine tour, you can also visit Hollywood Sign, the famous white Hollywood sign that you have seen in countless movies and series, and take pictures for your social networks.
Recommendation.
The half-day tour of Hollywood and Beverly Hills is wheelchair friendly, both the transportation and the surfaces so it is an activity that most travelers can participate in, also the younger ones, with a maximum of 14.
Duration
The approximate duration of the excursion is 2 hours and 30 minutes.
3. Private Tour of Los Angeles
If you are looking for a more intimate experience visiting Los Angeles, where you and your group of up to 7 people are the ones who decide when to start the tour, what to see, and how long to stay at each tourist attraction, my recommendation is to choose the private tour of Los Angeles so you can get to know the city at the pace that suits you best and with all the comforts, like a local from Los Angeles.
With this 3-hour private tour, you will learn the history of the most iconic places in Los Angeles and also those that are not in the guidebooks. A perfect mix between the most touristy and less frequented places where there will be no other tourists in your picture.
Itinerary
The vehicle will pick you up for free from anywhere within a 4-mile radius of Hollywood Boulevard. Settle in and turn on your camera to immortalize the best views of Mulholland Drive or Universal City Overlook, to capture the hustle and bustle of the Walk of Fame, and to take a few photos with two of the most popular signs in Los Angeles: the Beverly Hills Sign or the Hollywood Sign.
This private tour of Los Angeles is the only one of its kind with a stop at the Hollywood Sign on a secret walking route!
Then you can head to Sunset Strip and Rodeo Drive for a stroll through two of the hottest areas in the city of stars. Here you'll find some of the best restaurants and most exclusive stores in L.A. Who knows if you might run into one of your idols and get to ask for an autograph?
If your passion for movies is the reason that brings you here, this private tour of Los Angeles will also allow you to see scenes such as Greystone Mansion and Park, which has appeared in several movies and music videos, or Spadena House, the little house from Hansel and Gretel that children will love to see.
If music is the reason you travel to Los Angeles, a visit to Laurel Canyon will delight you. Since 1965, this Hollywood Hills neighborhood has been home to a multitude of young musicians who are now true legends: Jim Morrison, Eric Clapton, Linda Ronstadt, James Taylor, and The Mamas & The Papas are just some of them. Follow their footsteps through Laurel Canyon!
Recommendation
This private tour of Los Angeles is perfect for those who want to get to know the city at their own pace with their own group, with all the comforts and avoiding crowds. It is offered in English, Spanish, French, Russian, and Armenian!
Duration
The approximate duration of the tour is 3 hours.
4. 3-day California Coastal Tour: Santa Barbara, San Francisco, and Carmel
If you already knew the city of Los Angeles and this time you want to make a different plan, I propose an excursion of 3 days and 2 nights by van or coach along the west coast with stops in Santa Barbara, San Francisco and Carmel that includes 2 nights accommodation and a guide for the driver. This is a good opportunity to get to know some of California's coolest coastal towns and beautiful scenery.
Day 1: Los Angeles to Santa Barbara
The starting point for this tour in Los Angeles. On the first day, you depart north and the first stop is Santa Barbara. Here you can visit a Spanish colonial mission to see the importance that these enclaves had in the social development of the region.
Then on to Solvang, a small town founded by Danes that features typical northern European architecture including some restaurants, breweries and bakeries.
Return to the car to drive along the famous 17 Miles Drive (part of route 1) along the California coastline while taking in some beautiful scenery. It's well worth enjoying such a scenic drive before arriving in the town of Carmel, where you'll have some free time to explore before departing for your hotel where you'll rest after a long day.
Accommodations: San Francisco - La Quinta Inn & Suites
Meals: Not included
Day 2: San Francisco
San Francisco is considered one of the most beautiful cities in the United States and during the tour on Day 2 you will understand the reasons why. The tour starts with a short cruise departing from Fisherman's Wharf and cruising along the famous bay, under the Golden Gate Bridge and around Alcatraz Island.
You will then return to the pier for a drink and continue with a tour of the city, including Chinatown, Downtown Sausalito and the top of Twin Peaks, where you will find the best views of San Francisco.
Accommodations: Modesto - Best Western Palm Court Inn (at Winter Monterey Hotel / Holiday Inn)
Meals: Breakfast
Day 3: Yosemite or Monterey
Depending on the season in which you visit California, Day 3 of this tour will take you on a different route.
In summer you will start the day visiting the farms of the San Joaquin Valley until you reach Yosemite National Park. Get your camera ready to photograph this 1,200 square mile natural wonder of lakes, giant sequoia forests, crystal clear rivers and waterfalls.
Stop at El Capitan, Bridal-Veil Falls and Half Dome, Yosemite's iconic landmark and a great challenge for hikers. Finally you will continue with a pleasant walk from the Yosemite Resort to the highest waterfalls in North America: Yosemite Falls at 2,400 feet high.
In winter the day starts with a tour of Monterrey including the pier and Cannery Row and then on to the famous Hearst Castle built for newspaper magnate William Randolph Hearst by California's first female architect, Julia Morgan.
Hearst Castle is a temple of opulence and excess whose rooms house spectacular works of art. To see this palace during November or December is something special because you will have the opportunity to see it adorned with Christmas decorations in the purest American style. The tour ends with an evening return to Los Angeles with a suitcase full of memories.
Accommodations: Not included
Meals: Breakfast
Recommendation
When it comes to accommodations, this tour only allows a maximum of three people per room so if you are traveling with a group of 4 or more or want to have separate rooms, my recommendation is to make separate reservations.
Why I like this tour
It is a short tour that in only 3 days allows you to see some of the most outstanding tourist attractions of California and also the evolution of the state over time since its origins. In addition, it mixes ecotourism with a visit to some towns, which gives you a very complete experience as a traveler on your trip to California.
5. Day trip to Santa Barbara, Solvang, and Hearst Castle from Los Angeles
If you are in Los Angeles and you are going to spend several days in the city you can take advantage of your stay to explore other landscapes and locations. This excursion of 12 hours by van or bus from Los Angeles accompanied by a professional guide will take you through Santa Barbara, through the Danish-rooted town of Solvang and to the sumptuous castle of the famous 20th-century publisher William Randolph Hearst.
Itinerary
You will start the day leaving behind the Hollywood glamour to embark on an adventure to Santa Barbara to visit its beautiful beaches, harbor, and the historic Spanish colonial mission that was established there to evangelize the Chumash Indians.
Then you will go to Solvang, a town with Danish origins close to Santa Barbara and located in the Santa Ynez Valley, a very popular wine-growing area in California. Here you will find a reproduction of the Little Mermaid monument in Copenhagen. Before heading to Hearst Castle, take a stroll through the Danish-themed stores and sample the delicious cuisine.
The last stop on this tour is a visit to the home of William Randolph Hearst, a spectacular mansion filled with works of art where you can also learn some of the more curious stories of the area's upper class that frequented the premises in the last century.
On the way back to Los Angeles you will have the opportunity to remember the best moments of the excursion and review all the pictures in your camera. An unforgettable experience.
Why I like this tour
It's a quick way to visit several interesting places in California while taking advantage of a stay in Los Angeles. If you are passionate about architecture it is a fantastic way to enjoy the style and history of different periods: from the Spanish colonial architecture at the Franciscan mission to the Danish court architecture in Solvang to the Spanish architecture of the Andalusian cathedrals that inspired the construction of the Casa Grande at Hearst Castle.
6. Day Trip to San Diego from Los Angeles
San Diego is one of the most relevant cities in the United States, bordering Mexico and best represents the Californian spirit. For its history, its beaches, its parks, and its climate it is a highly recommended place to visit with this day trip to San Diego by van or bus from Los Angeles accompanied by a professional guide.
Explore San Diego's major historical and scenic attractions in just 13 hours. See the elegant seaside community of La Jolla, investigate the beautiful surroundings of Coronado Island, stroll through Old Town San Diego, and experience the opportunity to board the aircraft carrier USS Midway, a museum ship that until 1955 was the largest in the world. Feel like a real Marine!
Itinerary
The tour starts by heading south to the inlet of La Jolla, known as the new Beverly Hills where there are wonderful views of the California coastline. We then depart for San Diego to continue the tour at the Seaport Village, one of the must-see sites where the USS Midway aircraft carrier is located.
The tour of San Diego continues to Coronado Island, home to the renowned Coronado Hotel, the largest wooden building in the United States, which has been used as a movie set on several occasions.
Before ending the San Diego tour and returning to Los Angeles you will have 2 hours to visit the old town where the first Spanish town on the west coast was founded in the 18th century. This historic district has several original buildings that you can see during a stroll as well as the Bazaar Del Mundo market, considered one of the best places to buy a souvenir of your visit to San Diego.
Why I like this tour
San Diego has everything you would expect from a big city along with spectacular beaches lapped by the Pacific Ocean. Its mild climate and laid-back atmosphere make it an ideal place to spend some time for leisure and fun. This tour is the perfect way to complete a trip to Los Angeles.
Isabel's Traveller Tip

Looking for the best views of San Diego? At the Coronado Island overlook overlooking San Diego Bay, you can enjoy the extraordinary skyline of the city and take a selfie!
7. Day trip to Palm Springs and shopping in brand name stores at discount prices from Los Angeles
Located in the heart of the Sonoran Desert in Southern California, Palm Springs is a city known for its spas and hot springs, luxury hotels, golf courses, and for having been home to legendary artists such as Frank Sinatra, Marilyn Monroe, and Elvis Presley.
On this 12-hour tour from Los Angeles by bus or van accompanied by a professional guide you will have the opportunity to discover all that Palm Springs has to offer, including its stunning desert landscape, the luxury homes of celebrities, the Living Desert Zoo and the high-end shopping of Palm Desert's "Rodeo Drive". You'll find the best bargains at the brand-name stores of Desert Hills Premium Outlets.
Itinerary
The tour to Palm Springs begins by departing Los Angeles for the desert with a guided sightseeing tour upon arrival that includes sights such as golf courses, celebrity mansions, or the Palm Springs Aerial Tramway from which you will have breathtaking aerial views of the city and the near-vertical cliffs of Chino Canyon.
If you're traveling with your family during your trip to Los Angeles, the next stop on the tour will delight the kids: the Living Desert Zoo and Gardens, a zoo and botanical garden with a great diversity of wildlife where you can observe a multitude of animals.
Then hop aboard the vehicle to visit Palm Desert's "Rodeo Drive" and the Desert Hills Premium Outlets where you can go shopping before returning to Los Angeles.
Why I like this tour
This day trip to Palm Springs is a great opportunity to get away from the hustle and bustle of Los Angeles and explore the slower pace of life in this affluent California desert town that has enchanted artists such as Elvis Presley, Barbra Streisand, and Marilyn Monroe.
In addition, you can find real bargains at the luxury brand outlets of Desert Hills Premium Outlets such as Prada, Versace, Gucci, Polo Ralph Lauren, or Dolce & Gabbana - a shopper's paradise in California!
Frequently asked questions
What is Los Angeles known for?

Affectionately nicknamed the "City of Angels", Los Angeles is known for its deep connection with cinema, with the city boasting the home of Hollywood and Universal Studios. As for the city itself, famous places to visit include Venice Beach, the Sunset Strip, Rodeo Drive, the numerous theme parks, and the numerous Rooftop Bars that dot the city.

Which Los Angeles Tour should I pick?

The tour with the most reviews by far lies with the 6-hour City Tour of Los Angeles, with over 470 reviews and a rating of 4 stars. Part of the appeal of this tour, comes with how extensive it is. You'll be shown many of LA's top sites, making it a heavily recommended site, especially for those visiting Los Angeles for the first time.

Any advise to do Los Angeles like a local?

Considering the sheer scale of Los Angeles, if you really want to traverse Los Angeles like a local, your best bet is to rent a car and exploring places outside of Hollywood Blvd. Other areas to visit include Thai Town, Echo Park and Korea Town as they provide some of the most unique experiences you'll like find.