10 Things to do in Bangkok with Kids
Whether you're traveling with young children or teenagers, Bangkok is a vibrant and exciting city that offers a plethora of things to see and do, so here's a summary of the activities you can't miss - join me!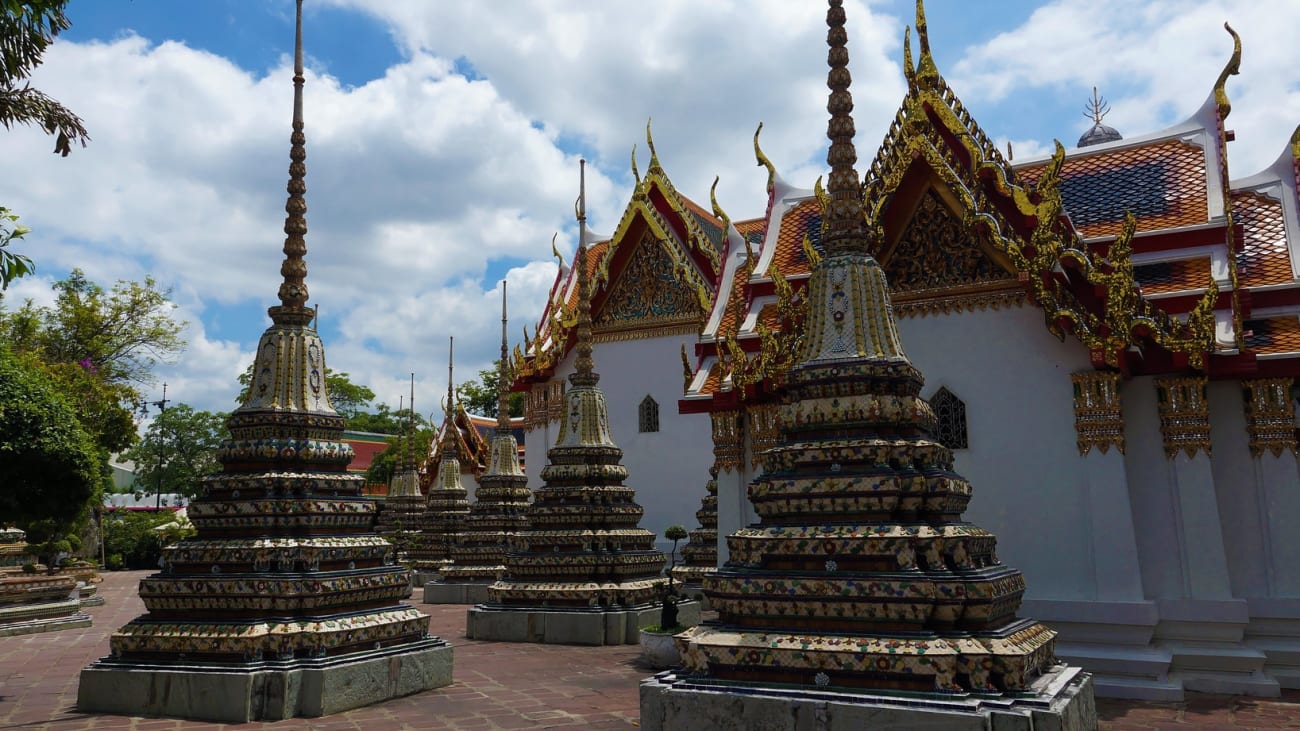 There are few cities in the world that can match the mix of exoticism, history and fun in the capital of the Land of Smiles. And with so much to enjoy, it promises an unrivaled sensory overload for the whole family.
From exploring the Grand Palace and visiting the famous Buddha Temple, to adrenaline-pumping go-kart tracks, zip-lining, elephant watching, penguin feeding, visiting its Creative District or sampling exotic dishes, in this article you find ten attractions and activities with the best things to do in Bangkok with kids.
1. Experience the adventure of the Sea Life Bangkok Ocean World
If you are looking for one of the 11 Best Things To Do in Bangkok with kids, the answer is simple, I invite you to buy your tickets for the Sea Life Bangkok Ocean World, where you will have a day full of fun with the little ones of the house. This fascinating attraction showcases more than 30,000 sea creatures in various themed areas, such as shark rides, an ice adventure where children can feed penguins and a 4D cinema.
Don't miss the opportunity to enter a huge underwater tunnel and marvel at the fascinating colors and shapes of exotic marine life. And if you're looking for more hands-on activities, book a behind-the-scenes tour, where you'll get up close and personal with some of the ocean's most fascinating creatures.
In addition, Sea Life Bangkok offers everything from interactive touch pool experiences, educational talks and feeding sessions, to taking in a Broadway-style performance of a Thai icon that captures the attention of adults and children - there's something for everyone at this incredible aquarium.
With so many fun activities, it's no wonder Sea Life Bangkok Ocean World is a must-visit for families. So get ready for a day of unparalleled aquatic exploration at B1-B2 Floor, Siam Paragon, 991 Rama 1 Rd, Pathumwan, Bangkok, an 8-minute walk from Madame Tussauds BANGKOK.
2. Hit the go-kart tracks with your kids at EasyKart Bangkok!
Looking for an exciting and different activity to do with your kids in Bangkok? Hit the go-kart tracks at EasyKart Bangkok! This place is ideal for those looking for a high speed and adrenaline experience.
EasyKart Bangkok offers a wide variety of karts for all ages, from karts for kids, to high speed karts for adults. In their facilities they also put at your disposal a series of circuits with different levels to explore. From short circuits for beginners, to longer and more challenging circuits for the more experienced. Check out this video to give you an idea.
One of the best things about EasyKart Bangkok is that it is safe. With professional instructors and safety equipment, these tracks represent an ideal choice for motor enthusiasts and little ones.
EasyKart Bangkok also offers packages for private events such as birthday and bachelor/bachelorette parties, family competitions, etc. If you are looking for an exciting activity for your next event, this is an excellent choice!
3. See the Grand Palace and Emerald Buddha Temple
Thailand's capital city exudes an eclectic mix of culture, history and modernity. It is a city that offers something for everyone, including families with children, and the Grand Palace and Emerald Buddha Temple is the first stop for any traveler wishing to see the country's cultural mix.
When you purchase your tickets to the Grand Palace or Wat Phra Kaew, you will have the opportunity to visit its complex of ornate buildings and temples, which was the royal residence of the King of Thailand until the early 20th century. Today it is a museum showcasing the country's colorful and rich history.
The Temple of the Emerald Buddha is located within the Grand Palace grounds and houses a revered Buddha statue made of jade. It is considered one of the most important and sacred temples in Thailand, and its exquisite and intricate details will leave your children spellbound.
Despite being a popular tourist destination, the Grand Palace and the Temple of the Emerald Buddha exude serenity and spirituality. It is their contrasts that catch the attention of the little ones, especially if you then look at the Wat Pho, a huge golden reclining Buddha of asymmetrical dimensions located a few blocks from the Grand Palace.
4. Visit the Promised Land at Siam Amazing Park
This huge park sprawls over 4,000 square kilometers and is home to some of the most exciting water, theme and amusement rides for kids and adults alike to enjoy.
From the Vortex, a 7-story slide that plunges passengers into a pool, to its massive roller coaster, to the wave pool, where you can relax and splash around in the water, Siam Park City has something for the kids - and not so kids. Its thrill rides are not for the faint of heart; on the contrary, they will test your courage and give you an adrenaline rush in a safe environment.
In addition to the water rides, the park offers other activities to explore with the kids, such as a haunted mansion, a dinosaur museum and even an ice skating rink. Those looking for a more relaxed experience can dive into the park's other attractions such as Animal World, so when you're planning your things to do and see in Bangkok in summer, you can pencil in a stop at this park for an exciting day out.
5. Go on a food tour in Bangkok with kids
This recommendation may surprise you, but when you see the vibrant colors of Thai gastronomy, its exotic flavors and, above all, the dynamics of street food, you'll know why Thai food tours find their audience among the little ones.
Bangkok' s gastronomy has something for everyone's palate. There are many places where you can find delicious food, from street stalls to local restaurants. Pad Thai and chicken are some of the most popular dishes. Other options are insect-based dishes in contrast to classics such as traditional pizza.
There are also many exotic fruits to try, such as mangosteen, water coconuts and lychees. Another interesting fact is that the best food tours in Bangkok often include visits to local markets, the experience of learning how to cook Thai food, and of course, trying many different dishes. Just make a note of the expression "mai phet" (not spicy), it will come in handy.
In short, doing this kind of food tours in the Thai capital is an exciting adventure that stimulates the palate of adults and children.
6. Visit Khao Yai National Park
Khao Yai National Park is an authentic Thai jungle that opened its doors in 1962 and, since then, occupies the first place in the list of natural reserves in Thailand. It is located in the province of Nakhon Ratchasima and although it is a 2-hour drive from Bangkok, it has so much to offer that it is one of its most popular tourist destinations for family travelers with children.
For starters, you can explore Khao Yai on foot by hiking through its lush forests or joining one of the many guided tours offered throughout the day. If you're feeling adventurous, climb rocks or try your hand at zip-lining through the treetops! You can also enjoy some relaxation time during your visit by participating in one of the several yoga classes available at various locations in Khao Yai Park.
In addition to all these activities, there are also many things for children to do while visiting Khao Yai National Park, including: swimming in waterfalls, getting up close to the bird observatory, going on safari, picnics, exploring caves, or seeing elephants in their natural habitat and much more!
This park promotes ecotourism and in their facilities you can learn about wildlife conservation efforts being made throughout Southeast Asia. You can see all they have to offer on their website. Visit them at PO.9 PakChong Musi Pakchong Nakhon Ratchasima.
7. Visit the Bangkok Art and Culture Center
The Bangkok Art and Culture Centre is a vibrant, contemporary space offering diverse exhibitions, performances and workshops for all ages that flanks the metropolis' Creative District. The Center features a mix of international and local artists, making it a great place to learn about the city's history, culture and modern life.
Inside, exhibitions encourage interaction and immersion, with a range of multimedia installations, sculptures and paintings to explore. Children will love the opportunity to create their art in the interactive studio or attend one of the many workshops on offer.
With a packed calendar of events, including family movie nights and live performances, the Bangkok Arts and Culture Centre is a great destination for families looking to get away from the typical tourist activities. In addition, its central location extending 2 blocks from the Jim Thompson House Museum makes it easy to combine with other nearby attractions. Discover avant-garde and contemporary Thai art in one place.
8. Enjoy Lumpini Park
Visit one of **Bangkok'**s most important natural lungs: Lumpini Park. This park is an oasis of tranquility amidst the hustle and bustle of the city's 58 hectares of green space, and is a perfect place for children to enjoy nature in the heart of the city.
The park has a wide variety of activities for the whole family, from cycling to outdoor yoga. There is also a lake in the center of the park where you can rent a boat and paddle while enjoying the view of the scenery, or if you prefer, you can just jog on the running track. In addition, there are plenty of green areas for children to run and play.
One of the most popular attractions at Lumpini Park is the lizard show. These giant reptiles have an impressive presence and children can watch them up close as they move freely around the park.
If you feel like exercising, there are several free class options in the park, such as tai chi. Another popular activity in the park is the outdoor concerts held on weekends. This is one of the best public parks in the world according to National Geographic, so make the most of it!
9. Have fun with your kids at Asiatique The Riverfront!
Asiatique The Riverfront is a mecca for family fun. Located on the banks of the Chao Phraya River, Asiatique is an open-air mall where the magical world of Disney merges with Thai culture and offers a wide range of activities and entertainment options for children and adults.
One of the most prominent attractions, Asiatique's Ferris wheel, features an imposing structure that offers breathtaking views of the Bangkok skyline. Your kids will love the thrill of riding in the glass cabin, and you'll appreciate the opportunity to take amazing photos.
There are also bumper cars, a haunted house and other carnival rides. And if you're looking for a more relaxed experience, you can stroll leisurely through the many stores and boutiques that line the promenade. But we must admit that the best part of Asiatique is the nightly entertainment. From traditional Thai dance performances, including the famous Muay Thai Live Show, to modern theatrical shows, there's always something to do on the Asiatique stage.
You and your little ones will be mesmerized by the colorful costumes, intricate choreography and talented performers. And no stroll here would be complete without sampling the delicious street food on offer. Overall, Asiatique The Riverfront is an attraction that should be on the bucket list of every family visiting Bangkok. With so many activities and entertainment options, it's impossible to get bored here.
10. Take a tour of Bangkok's museums
If you are looking for an educational and fun plan to do with your kids in the Thai capital, a tour of the city's museums can be an excellent alternative, the variety is as varied as the city itself and best of all, most of them have a stop near the Bangkok tourist bus.
Here is a map with the 9 most famous museums in Bangkok. However, I highlight three of them:
The Bangkok Museum of Natural History
If you are looking for a museum that appeals to both children and adults, the Bangkok Museum of Natural History is the place to go. It is home to an impressive collection of fossils, dinosaur skeletons and other prehistoric remains. The highlight of this museum is undoubtedly its life-size replica of a Tyrannosaurus Rex skeleton (the largest in the world).
If your kids like to learn about animals, they will love exploring all the exhibits found here. There are many interactive displays where they can learn more about different species, including snakes, crocodiles and elephants!
The Farm: Snake Museum (Queen Saovabha Memorial Institute)
At the Snake Museum or Queen Saovabha Memorial Institute you can see a variety of snake species and learn about their behavior and habitat. But the jewel of this museum is the live show where the keepers demonstrate their skills in removing venom from the snakes. In how many museums can you see this?
Siam Museum
Through multimedia exhibits and interactive games the Siam Museum invites you to learn about the past, present and possible future of Siamese culture and society almost organically.
The two-story building houses a series of didactic galleries with videos, interactive objects, Thai games, and you can even try on typical Thai clothing. Plus, after 4:00 p.m.,admission is free!