10 Things to Do in Cancun in January
January in Cancun is synonymous with an excellent start to the year. Start with a party on the beach and then let yourself be enveloped by all the activities that this Mexican paradise has to offer.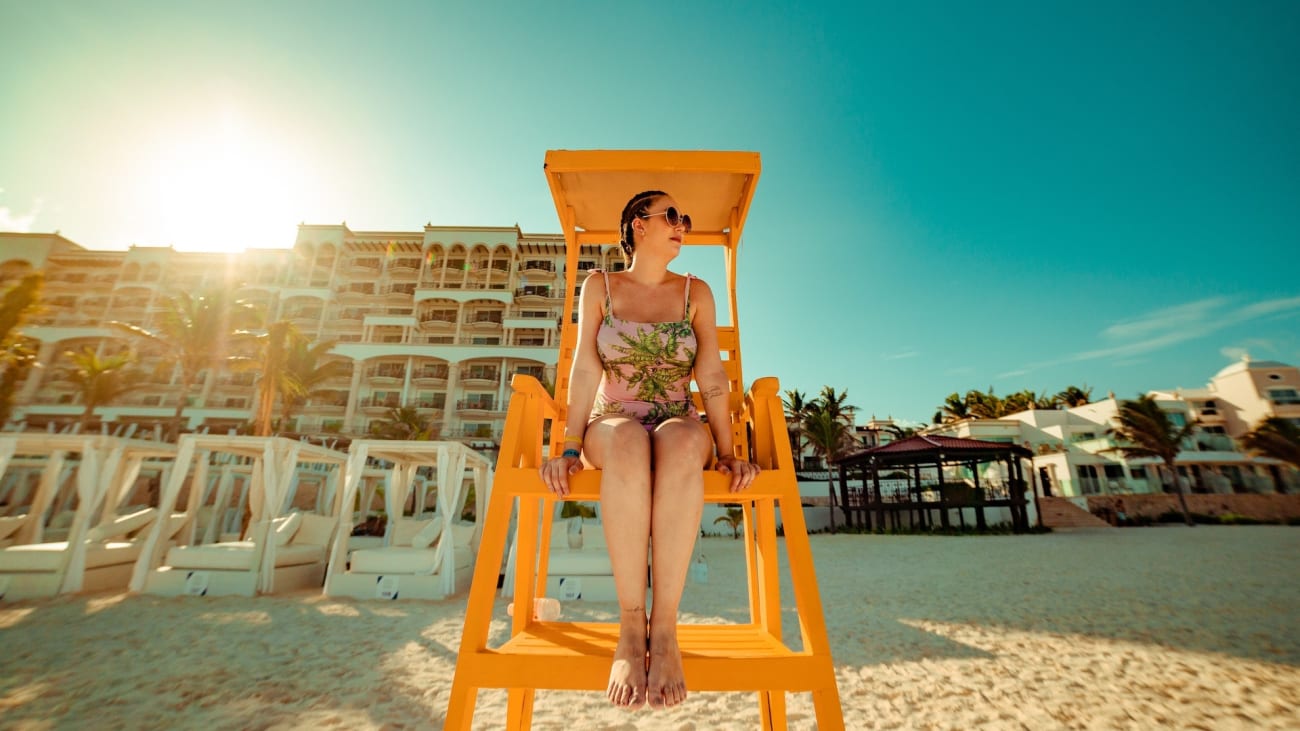 If you decided to travel to Cancun in January I can tell you something: you made a great decision. If you haven't made it yet and you are hesitating: what are you waiting for? Even though January is high season, which means there are more people and prices are higher than the rest of the year, there is no better month to get to know Cancun in depth and enjoy all its tourist attractions.
Start the year with a party on the beach; cheer up and participate in the Annual Barracuda Tournament; experience the Arena Festival and many more activities!
Join me in this tour where I will tell you about 10 unmissable activities and all the basics to make your trip the best of your life. Let's get started!
1. Start the year with a beach party!
If you chose to travel to Cancun in January, this is the perfect opportunity to welcome the new year celebrating on the white sands of one of its best beaches. In the sky, you will be able to see the fireworks indicating 00:00 and enjoy this unforgettable moment with your loved ones.
Ana's Traveller Tip

Remember that, being a holiday, restaurants will be working at maximum capacity. Therefore, I advise you to make a reservation in advance if you plan to dine at one.
2. In January I was "present" at the Annual Barracuda Fishing Tournament
During the last days of the month, one of the most exciting sport fishing contests in the world takes place: The Annual Barracuda Fishing Tournament. This international event summons thousands of fans from different countries around the globe.
The winner of the competition will be the participant who manages to catch the most fish in a given time.
Don't worry, these fish, after being caught, are returned to the sea without causing them any harm. And you, would you dare to throw the rod?
3. Come and enjoy the "Arena Festival". The hottest party of the winter season
From the last week of January, the fabulous Arena Festival takes place.
This festival, which brings together the best DJs of electronic music, lasts 6 days and you won't be able to stop dancing and enjoying yourself for a second! In addition, this festival is one of the most chosen by members of the LGBTQ+ community who travel from all over the world especially for this occasion. Beach, party, music and good atmosphere, make this an impossible plan to miss.
4. Live the "Crash my Playa" experience: four days of country music, parties, food, and much more!
Between the third and last week of January, experience four exciting days at Crash my Playa, the world's largest country music event. It is organized by the famous country musician, Luke Bryan. To enter the show you must buy one of the different tour packages offered by the organizing company. These packages are designed for you to relax completely and not think about anything else but enjoying your stay at the Crash my Playa.
If you have just arrived in Cancun, they will pick you up from the airport and take you to the wonderful Moon Palace Cancun resort where you will have everything included for the duration of your stay. En-suite rooms, room service, unlimited drinks, etc. During the day, you can enjoy walks along the paradisiacal beaches of Cancun, taste first class meals, enjoy some good massages in a Spa session and at night end up singing and dancing with renowned international artists and other country fans like you.
5. In January swim with the fascinating Sailfish
In the month of January in Cancun, you will also have the unique opportunity to swim in the open sea with the incredible sailfish and hundreds of other tropical fish. This season is the best time to see the sailfish due to the great concentration of sardines.
This fish is considered the fastest in the ocean, reaching speeds of 110 km per hour. Its long, flexible and powerful body helps it to turn around easily, deceive its prey by camouflaging itself and capturing them.
Don't miss this underwater adventure that you will remember forever.
6. Visit the Archaeological Zone "El Rey" and learn more about the history of Cancun
If you are one of those who enjoy outdoor walks and are passionate about history, you can't miss visiting "El Rey". This archaeological zone, formerly inhabited by the Mayan civilization, is one of the most attractive and extensive in Cancun. Its ruins invite us to imagine the life of its ancient inhabitants and to learn about the incredible techniques with which they were built.
The month of January is excellent for hiking the length and breadth of the area. With temperatures averaging 21 degrees, you will not suffer from the suffocating Mexican heat and humidity. Of course, I recommend you bring:
Personal water bottle.
Hat.
Sunscreen.
7. Traveling as a couple? Fall in love forever aboard the "Columbus Cruise":
In Cancun, love is in the air. Thousands and thousands of couples choose this destination in January when there are no extreme temperatures, to enjoy a romantic getaway, enjoy the honeymoon or get married in the Mexican Caribbean. Who has never dreamed of saying "yes, I do!" to the love of their life on those paradisiacal beaches?
Whatever the reason that takes you to Cancun with your partner, you can not miss the opportunity to get on board the Columbus Cruise. It is undoubtedly one of the best boat rides you can take on the island.
On the boat you will be invited to the perfect plan: dinner with good wine, accompanied by live music to make this moment an unforgettable memory. In addition, this is crowned with the incredible scenery of the Nichupte Lagoon. The boat departs from Puerto Aquators, located in the Hotel Zone. We recommend booking in advance due to the high demand of the Columbus Cruise during the first months of the year.
8. Connect deeply with nature at Xcaret Park
This park is one of the most emblematic in Mexico and chosen by tourists, you can reach it through the different excursions to Xcaret Park that are offered and enjoy more than 50 outdoor activities surrounded by the stunning beauty of nature. Swim in the park's subway rivers, stroll through the jungle interacting with the flora and fauna of the place and contemplate exotic animals such as jaguars, monkeys or flamingos. The weather in January is ideal for you to do all these activities.
Also, if you are planning to travel with your family, there is also an area dedicated especially to activities that you can do with the little ones. In the Children's World, the older ones (6 to 12 years old) can enjoy swimming in shallow crystalline waters. For parents' safety: they are fitted with a life jacket that they must wear at all times. For children under 6 years old there are also fun interactive games, according to their age.
Here are some recommendations to make your visit to the Park an unforgettable experience: before going, study the map well so as not to miss any of the attractions you want to visit; wear loose clothing to move around comfortably; bring extra sneakers to change them in case you get wet; use sunscreen and get a good camera of your own, since the entrance to the Park does not include photos and if you want one, you will have to pay an additional fee.
To fully enjoy all that Xcaret has to offer, I suggest you dedicate a whole day to it. In addition to the attractions during the day, at night (at an additional cost) you will be able to taste gourmet dishes with flavors from all over the world. Are you going to miss it?
9. Would you like to play a round of golf at the paradisiacal "El Camaleón Mayakoba Golf Course"?
Whether you are a professional, amateur or have never played golf before, you won't want to miss this experience. As I told you, January in Cancun is a great month for outdoor activities such as a round of golf. This course is surrounded by a unique landscape, surrounded by mangroves, cenotes and crystal clear lagoons.
Designed by the professional golf star, Greg Norman, everything has been carefully thought out for your enjoyment.
In addition to the course services and the excellent golf clubs, you can also enjoy the full catering of food and beverages on the course.
Wait, there's more... "El Camaleón" offers another luxury service to its visitors: personalized training at the prestigious Jim McLean Golf School, the only one the coach has in Mexico. Without a doubt, it's a plan impossible to miss! P.S: I leave you the link to the official website of the course, so you leave nothing to chance and you can enjoy an unforgettable experience.
10. Enjoy a winter ride on the beautiful bike path in the heart of Cancun:
If you like outdoor sports activities such as running, biking, skating or you are more of those who choose to enjoy a quiet walk and a good chat, the ciclopista in January is your best option.
Located in downtown Cancun, it extends for more than 22 km through the Hotel Zone to the athletics track "Toro Valenzuela". While you exercise, you can contemplate the incredible landscapes that the island gives you and, most importantly, without suffocating from the heat or drowning in the extreme summer humidity.
Cancun prices in January
Although Cancun in January is in high season and the prices of flights, tours and excursions are more expensive compared to the rest of the year, you can enjoy many activities. If you are on a tight budget, it doesn't matter! There are options for all budgets.
To reduce costs I suggest you always book in advance the attraction you choose to visit, as you can get great discounts and promotions.
Weather in January in Cancun
As I mentioned before, January has the ideal weather to visit and enjoy all the attractions Cancun has to offer. Whether you choose to take a walk on the beach, visit the archaeological sites or party with your friends. In Cancun's winter, temperatures hover between 20 and 28 degrees Celsius, with a considerable decrease in humidity compared to summer. I assure you, it's the best time to travel to Cancun
When the sun starts to set, you won't need anything more than a sweatshirt or a light jacket to help you fight the cool sea breeze. Rain is not common at this time of year, so you don't have to worry about bringing an umbrella.
In this box you can compare the temperatures and climates that Cancun offers throughout the year:
Winter
December - March
Climate: Temperate
Maximum 28ºC
Low 20ºC
Spring
March - June
Climate: Warm
High 32ºC
Low 22ºC
Summer
June - August
Climate: Tropical and humid
High 33ºC
Minimum 24ºC
Autumn
September - November
Climate: Temperate
High 30ºC
Minimum 21ºC
Transfers from Cancun airport to your hotel
Eternal queues at the airport to get a cab to take you to your hotel? Forget about that! Hire a private transportation service in advance and don't waste a minute of your vacation. I leave you the best and most reliable Cancun Airport Transfers for you to choose according to your taste.