Cala Trebaluger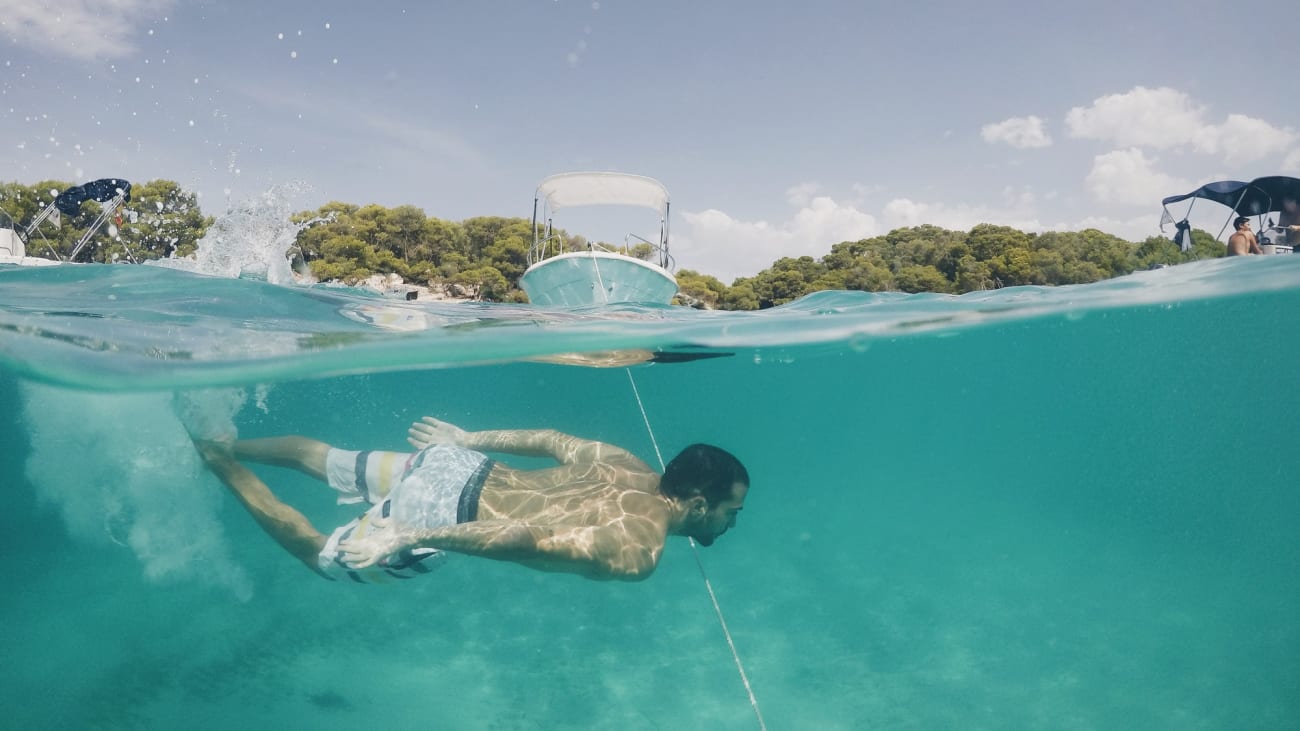 One of the most rewarding walks is the one that will take you to Cala Trebalúger, where the green, the turquoise blue and the white color of the fine sand merge into one.
**It is not the most accessible cove in the south, but it is one of the most beautiful, so take note of how to make the most of your visit to Trebalúger to make the walk worthwhile. If you don't feel like walking, you can always join a boat trip: to it. I tell you all about it here.
How to get to Trebalúger Cove
:
I already told you that it is not the most accessible cove of the south coast. **You can only get there on foot but I assure you that the walk is worth it.
Where it is: south coast of Menorca, accessible on foot from Cala Mitjana - see in Google Maps:
By car
It is clear that the car is the most practical way to move around Menorca on your vacations. It allows you flexibility and freedom of schedules, but you will have to take into account that not always the beaches are accessible by private vehicle. And that is the case of Trebalúger, which has no parking or path to it, forcing you to park a few kilometers away, specifically in Cala Galdana, about 40 minutes walk.
The parking lot of Cala Trebalúger
Cala Trebalúger does not have its own parking. If you want to get to the surroundings by car, the most practical way is to park in the parking lot of Cala Galdana and Cala Mitjana and start from there on foot.
How to get to Cala Trebalúger on foot
You will have no choice but to walk to Cala Trebalúger, wherever you come from. From Cala Galdana, for example, you can reach first Cala Mitjana in about 20 minutes on foot and then you will have another 20 minutes to Trebalúger. That's 40 minutes in total. From Cala Fustam, for example, it will take you about 25 minutes walking.
How to get to Cala Trebalúger by bus
The bus is always a good option because in high season it usually has very good frequency. The main coves are well connected with the main towns and will save you the time of parking. You can get from your accommodation to Cala Galdana and from there walk along a nice path to Trebalúger. Consult in the web of buses of Menorca which is the line and the schedule that suits you best.
Visit Cala Trebalúger in a boat excursion
Given the road you have to travel to get to Trebalúger, it may be worthwhile to consider the option of taking a boat excursion to Trebalúger. Being one of the :best coves of Menorca:, all the boat trips in this area of the island include it in their route.
And how much do they cost and what do these excursions consist of? Very easy. You can choose between full day or half day trips: you will visit the southern coves and you will have time to bathe, snorkel and even enjoy a traditional paella on board if you choose to sail for a full day.
You will visit Macarella:, Cala Mitjana: or Turqueta: and other paradisiacal beaches that you cannot miss during your vacations. The price is 28 € for the half day option and 50 € for the full day option with all inclusive.
What to do in Cala Trebalúger
The best thing you can do in Trebalúger is, without a doubt, enjoy its crystalline waters, the sun and the spectacular natural environment that surrounds it. You can shelter from the heat under the shade of the pine forest that almost reaches the sea water and you can also take its paths to reach other nearby coves. **Cala Mitjana, for example, is only 20 minutes away and is well worth a visit.
Another option I recommend is that, if you have goggles and snorkel Snorkel, do not hesitate to explore this coast and the limestone walls that surround it. You will find interesting underwater life that will keep you entertained for a while.
The best time to visit Cala Trebalúger
As in practically all the coves of the island, you should arrive early in the morning to make sure you have a good space, especially if you want to avoid having problems to park and not having to do the 40 minutes walk under the intense midday sun.
In addition, arriving early in the morning you will be able to take better advantage of the day at the beach and you will have time to discover another of its nearby coves. If you want to get there by boat, you can save yourself the early start and do the excursion in the afternoon or embark on the full day option at 10 am in Ciudadela.
What services does Cala Trebalúger have?
:
None. Trebalúger is a virgin beach with no parking, bars, hotels or restaurants. Everything you will need during the day, better bring it with you: water, soft drinks, food, hat, sunscreen.... Be well prepared so you don't have to interrupt your day at the beach with a walk to the nearest store, 40 minutes away!
What can you eat in Cala Trebalúger?
:
Very easy: whatever you want or can put in your backpack. There you will not find any restaurant or beach bar service to buy food, nor will you find street vendors. It is important to keep this in mind to make sure you get there with provisions in your backpack or in a cooler to make the most of your day at the beach.