Best Beaches of Menorca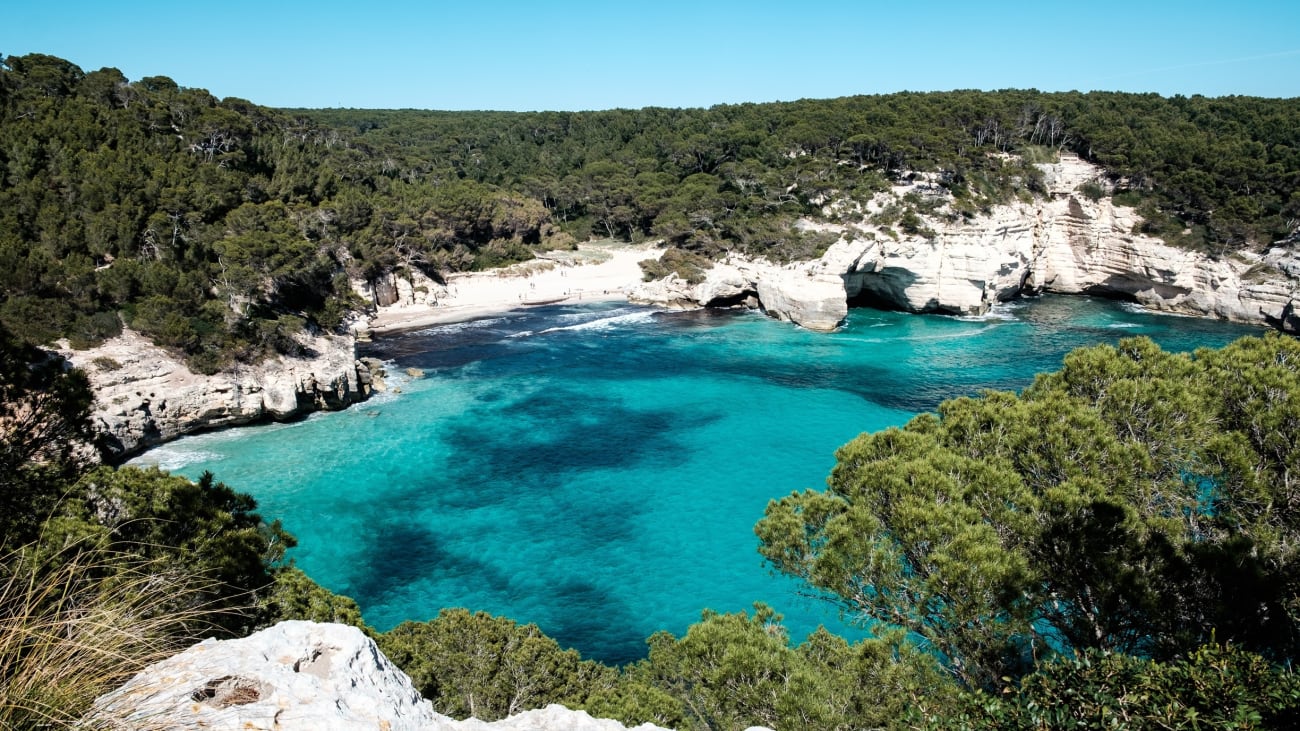 You will have seen them in postcards and photos hundreds of times, but until you put your feet in the sand, dive into its waters and enjoy sunbathing in its coves you will not believe that this paradise was so close. If you want to discover which are the best coves in Menorca, keep reading.
1. Macarella and Macarelleta Coves
Considered by many the most beautiful beaches in Menorca, the complex of Cala Macarella and Cala Macarelleta, on the south coast, is essential and you cannot leave Menorca without spending a day enjoying its spectacular scenery.
The crystal clear waters reach here the maximum expression and the environment surrounded by stone cliffs and trees will not leave you indifferent. Although it is a virgin beach, you will find a restaurant where you can eat, have a snack or simply refresh yourself.
If you want to enjoy it to the fullest, you can join a boat excursion:. This type of excursions are very comfortable, since you spend a day on board and also include lunch. You will avoid crowds, long waits in the parking lots and walks under the sun and you will have time to bathe and snorkel in Cala Macarella, among others.
Note that Cala Macarelleta is nudist (although nowadays it is also easy to find clothed bathers) and that it is totally virgin, it does not have any services.
Where it is: south coast - see on Google maps:
2. Turqueta Cove
This is another favorite for Menorcans and tourists. The name does not deceive: its turquoise waters are the main attraction of this cove that at times seems to have a fluorescent blue sea.
Its fine sand completes the spectacle and the good thing is that it won't take you long to get there: it is a ten-minute drive from Ciudadela and with only 10 minutes more of walking, you will cross a lush pine forest and you can plant a parasol and a towel. The prize? The refreshing dip as soon as you arrive.
Despite being a virgin cove, it is under the surveillance of a socorrista and has public toilets nearby to which you can resort in case of need. Regarding bars, restaurants or beach bars, you won't find anything, so you better bring food and drinks in a backpack.
Where it is: south coast - see on Google maps:
3. Son Saura Cove
We are reluctant to leave the south coast of Menorca because its crystal clear waters and white sand has us totally trapped. Son Saura is another of those coves that deserves a visit (or to stay there to live forever). It is also a virgin cove but in the last years it has the surveillance of a lifeguard, which makes it especially safe for families.
You can get there by car and once there, you can enjoy a large shaded area thanks to its lush pine forest. The only drawback of Son Saura is that in recent years it has been frequent the arrival of algae that can accumulate on the shore of its coast and make bathing a little more uncomfortable.
Where it is: south coast - see in Google maps:
4. Mitjana and Mitjaneta Cove
:
The complex of Calas Mitjana and Mitjaneta cannot be missing in any ranking of the best coves of Menorca. Flanked by ravines, pine forests and cliffs, when you reach its fine sand you will feel that you are surrounded only by nature.
To get there you will have to park (or get off a bus) in Cala Galdana and from the Mirador de Sa Punta, take a stretch of the Camí de Cavalls of approximately one kilometer. It won't take you more than 20 minutes walking (unless you stop to take pictures along the way, which is totally understandable).
Why do we like Cala Mitjana? The fact that the path to this cove is a bit longer than the one that leads to other coves means that not so many people reach it, especially the small Mitjaneta. But do go provided with food and refreshments or you will have to make the 20 minutes walk to Cala Galdana when you want to eat or drink something.
**Where it is: south coast - see on Google maps:
5. Cala Pregonda
We leave for a moment the coves of the south to dive into another planet. When you arrive at Cala Pregonda, you will be struck by practically everything: the scape, the reddish color of its sand and the virgin panorama you will have before you. It is located on the north coast of Menorca, which is generally less crowded than the south coast. If you feel like avoiding crowds, keep this in mind.
Thanks to being in a point somewhat distant from the rest of the island and the relatively long distance to be covered on foot makes it an island very little frequented by tourists.
If you feel like snorkeling in Menorca during your vacations, don't hesitate to take out your goggles here: Cala Pregonda is within what is considered the Marine Reserve of Menorca, since the number of species that live in these waters is very high. If you have already overcome laziness to get here, make the most of the cove and take a good dip, you will remember this cove forever!
Where it is: north coast - see on Google maps:
6. Trebalúger Cove
:
All good things come at a cost and getting to Cala Trebalúger will take you about 40 minutes walking from Cala Mitjana, which makes a total of practically one hour walking from the moment you park the car. But if Trebalúger is in the top 10 coves of Menorca is because it is really worth it.
Surrounded by white stone and pine trees that practically reach the sea, its blue colors and fine sand make it a true paradise and a delight for the eyes. The path is not particularly easy, as it has quite a steep slope and you will even have to cross a small stream.
But I insist: this virgin cove is one of the most authentic of the south coast of Menorca and you will enjoy both the path and your rest in the water. Do not hesitate and go for it!
Where it is: south coast - see in Google maps:
7. Cala Presili
:
The Favàritx lighthouse guards this spectacular beach on the east coast of the island of Menorca. To access it you can arrive by car to the lighthouse (be careful! it is not possible to get to the lighthouse by car in high season, so you will have to park a little earlier) and then walk to it. On this occasion it will be especially necessary to wear comfortable and closed footwear, as the path is steeper than that of the coves in the south.
Once you reach your destination you will find a spectacularly unspoiled and unfrequented beach where you can spend a perfect day in the sun. Remember that as an authentic virgin beach, you do not have any kind of bar service or sale of drinks and food, so it is best to carry supplies in a backpack or cooler.
There is not much shade either, so I recommend bringing an umbrella if you plan to spend the middle hours of the day there in summer.
**Where it is: north coast - see on Google maps:
8. Escorxada Cove
Returning to the south but leaving the most frequented circuit of the coves of this coast, we find Cala Escorxada. Much more secluded and difficult to access, in this cove it is very rare to find crowds, so the enjoyment once there will be maximum.
You will have to walk almost an hour from Cala Mitjana or Santo Tomás, but I assure you that the walk will be worth it when you take a dip in its turquoise waters. If you want to opt for the comfortable option, there is a Taxi service (Taximar) that for 30 € can take you to the cove, but it is true that the road is quite nice and worth the walk (at least to the idea or the return). If you dare, you could even do it by bike.
You won't find any services here either, so remember to pack everything you will need during the day in a backpack.
**Where it is: south coast - see on Google maps:
9. Fornells Bay
:
This small fishing village on the north coast of Menorca has a harbor from where all the boat trips of the north coast depart. You can get here by car comfortably and park to embark on a boat trip or take a kayak out to sea to discover the small coves that surround it.
It is a good place for snorkeling, as it is within the Marine Reserve of Menorca and you can even dive in the famous Cueva de los Ingleses, surrounded by rock, vegetation and marine fauna. While in Fornells you will find everything you need to spend the day, if you join a boat trip to the northern coves, the boat crew will be in charge of serving you meals and drinks on board. Enjoy!
Where it is: north coast - see on Google maps:
10. Es Caló Blanc
This is the smallest beach of the island and probably the most charming. Its completely crystalline and transparent waters invite you to take a bath that lasts for hours. The surrounding landscape is also at the same level: two large rocks surround it and leave very little space for bathers, but it is not a problem because this is not especially a beach known by tourists.
When you arrive you will find a small parking lot on both sides of the road and walking very little you will be directly in the water, and you will never want to leave!
Where is it: south coast - see on Google maps: