Lisbon cruise
This is one of the most romantic and beautiful experiences in Lisbon: I will help you choose the best option and give you some tips to enjoy the perfect sunset.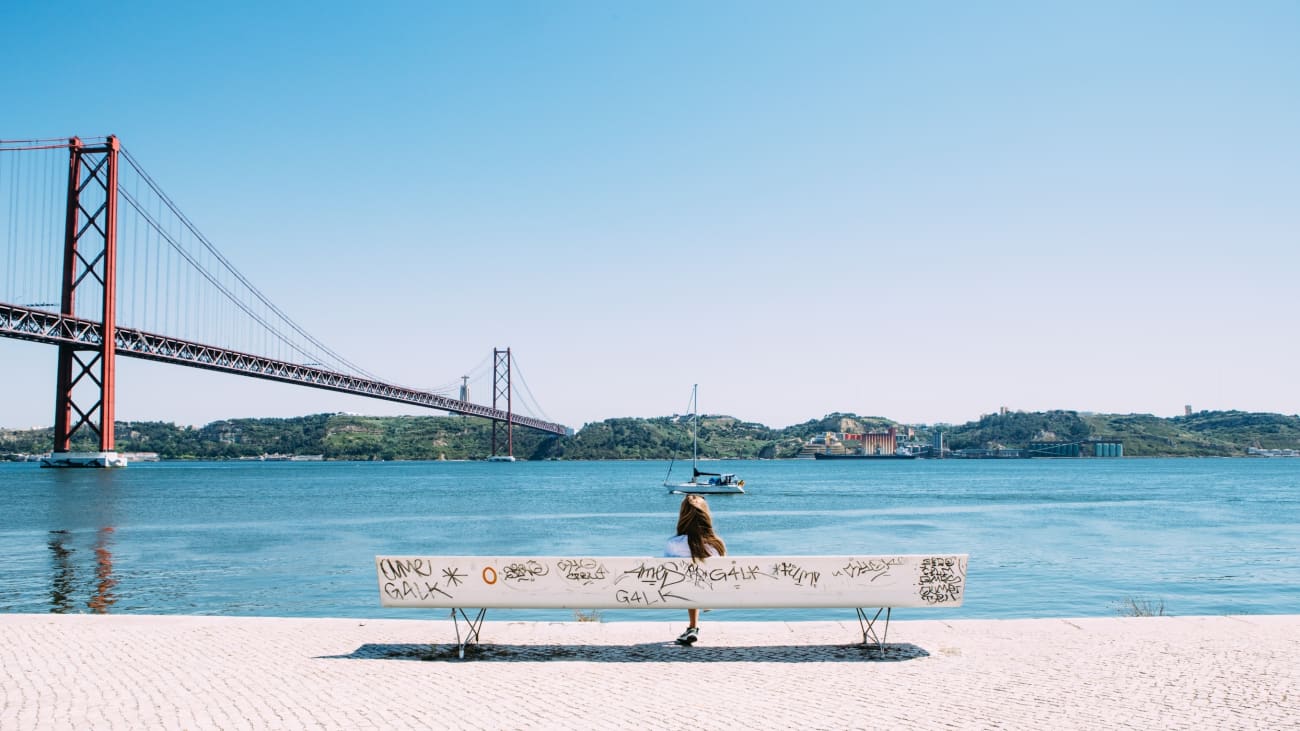 Enjoying a ride on the Tagus River after a day of sightseeing in Lisbon is a very relaxing experience that will put the finishing touch to your trip to this splendid city.
There are plenty of options available for a river cruise in Lisbon, so I've selected the two best experiences plus a few useful tips to make it all very easy for you. Here is a guide on how to do a river cruise on the Tagus River in Lisbon.
1. Options to do a Tagus river cruise in Lisbon.
2. Sunset cruise on the Tagus river in Lisbon.
This experience combines three things that for me, make it perfect: the sunset views over Lisbon from the river, a welcome glass of wine to toast, and a limit of 12 people on board to escape the crowds.
Taking a :sunset cruise on the Tagus River in Lisbon: will take you to see the Jerónimos Monastery, the Belém Tower, the Monument to Christ the King and the Monument to the Discoveries, among other points of interest, on a 2 hours long ride. The price of this experience is $ 36:.
Throughout the voyage, the crew will introduce the places you visit or can see in the distance, telling the story or talking about the importance of them. The narration is entirely in Spanish, although it can also be done in Portuguese or English.
However, keep in mind that this boat ride is not comparable to a guided tour in itself, so if you want to go deeper into the monuments and sights of the city I recommend you to read this article: Best Tours and Day Trips from Lisbon.
3. Boat ride at sunset with a glass of wine on the Tagus river in Lisbon.
image|url=https://res.cloudinary.com/hello-tickets/image/upload/v1616429382/post_images/lisbon-138/cruceros/26168224599_b1f08fd80e_o_Cropped.jpg|caption=Enjoy the wine and the beautiful scenery :::©Jon Gudorf Photography:::
This is another option to take a boat ride on the Tagus River in Lisbon: with a different company. This is a more relaxed and less sight-seeing oriented ride and more about enjoying a glass of Portuguese wine of your choice while cruising on the Tagus.
As in the other case, this experience lasts 2 hours: and you will be accompanied by a small group of other travelers (maximum 12). If I had to choose one, this would be the first one, because despite being very similar, this one has a slightly lower price ($ 41).
How to book a cruise on the Tagus River in Lisbon
:
.
To book either of the two experiences, you must indicate the date and number of participants and day to take the cruise. Once the payment is validated, you will receive in your email (the one you have indicated, so be sure to give one you normally use) a confirmation.
2. Make sure everything is correct and save the email to have it handy on the day of the cruise. Another option is to print the confirmation for extra security, in case you have any problems with your cell phone during the trip.
3. Both experiences feature free cancellation, and you can receive the amount you paid if you cancel at least 24 hours in advance, in case you can't or don't want to take the boat ride at the end.
5. Tips to take a cruise trip on the Tagus River
Bring clothes to cover yourself and appropriate footwear.
Even in summer, it can get a little chilly on the ship's deck after sunset. I recommend that you bring something warm to enjoy the whole experience. In any case, most cruise ships have blankets and you can ask for one if you get cold.
Take shoes that grip the ground well, as the deck can be a bit wet and slipping and taking an unexpected dip in the water is not usually the most pleasant thing to do.
Choose a sunny day
If you have the possibility, it is best to book this experience a few days in advance to know what day the weather will be good. The boat goes out even if it is cloudy or even raining, even though this may worsen the views and the experience. Therefore, it is best to choose a sunny day.
During the trip...
If you don't drink alcohol or don't like wine, you can change your glass for a bottle of water or a soft drink, simply when you are offered the drink. On the other hand, comments about the places you pass by are not the most interesting in the world, so I would recommend just enjoying the views and the breeze and relaxing for a while.
Arrive in good time to get the best spot.
To turn the ride along the Tagus into a romantic moment (yes, this experience is full of couples) you can move to the bow of the boat where there are cushions to sit on and enjoy the sunset. Try to get to the dock a little earlier to access first and get a good spot.
If you are interested in doing a cruise on the Tagus, you will also be interested in...
:
As I told you before, river cruises are a wonderful experience in which to relax and enjoy a glass of wine, but they will not show you Lisbon and all its corners and history as it should. For this, it's best to take a walking tour of the city with a local guide. If this sounds good to you, read on here: Best Tours and Day Trips from Lisbon.
Another must-do on a trip to Lisbon is to enjoy a live fado show. There are many fado houses in the city, and it is not easy to distinguish between the most genuine ones and those that offer a tourist experience. Luckily, we have a very complete guide where you will find out how to enjoy an authentic fado evening: Fado Performances and Shows.
Finally, if you have a few days left over in Lisbon and you feel like discovering its surroundings, I recommend you to take a trip to Sintra and discover the Pena Palace, a place that looks like something out of a fairy tale. Read more about this tour here: Sintra Day Trips from Lisbon.